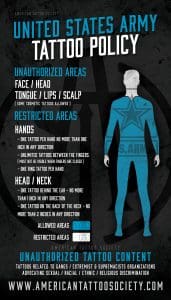 Over the last 10 years the Army tattoo policy has changed, then reverted back, and now has changed for the better allowing those who serve in the Army to have more freedom regarding tattoo choices.
Not the most liberal policy, (that policy belongs to the Navy) but it is the best for sure. The list below will explain what has changed and what it means (1 inch in all directions) for those in the Army.
Hands
– One visible tattoo per hand no more than 1 inch in all directions. (ring tattoos aren't included in this) This means that any two outside points of the tattoo cannot measure more than 1 inch. They did this, not a square inch because the tattoo could be long and skinny, therefore being less than 1 square inch and still being larger. The tattoo cannot be on the fingers but can be on the top of the hand or palm.
– Unlimited tattoos between the fingers, as long as they cannot be seen when the fingers are closed. This also does not include the ring tattoo.
Neck
– One tattoo on the back of the neck cannot be more than 2 inches in measurement.
– One tattoo behind the ear no more than 1 inch and not to extend past the ear lobe.
Unauthorized Areas
– Face
– Head
– Tongue
– Lips
– Scalp
Unauthorized Tattoo Content (Unchanged)
– Gang Related Tattoos
– Extremist or Supremacist  Tattoos
– Advocating Sexual, Racial, Ethic, or Relgious Discrimination