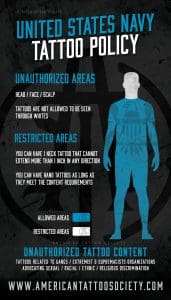 The best tattoo policy in the military easily belongs to the US Navy. In the Navy, you can get hand, finger, and neck tattoos with waivers. They also allow tattoos to extend past the collar line. Our Jacksonville NC studio has regularly tattooed the hands and necks of Navy members and received some interesting looks from the local Marines.
Even though the Navy's tattoo policy the most liberal it also has restrictions. These restrictions and unauthorized areas are listed below!
Unauthorized Areas:
– Head
– Face
– Scalp
Tattoos cannot be seen through whites.
Restricted Areas:
– You can have one neck tattoo that cannot extend more than 1 inch in any direction.
– You can have hand tattoos as long as they meet content requirements.