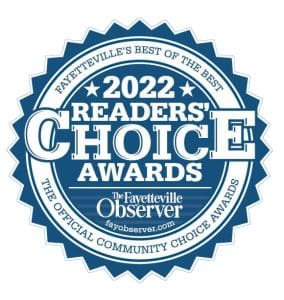 American Tattoo Society of Fayetteville was recently nominated for the "Fayetteville Observer's 2022 Readers' Choice Award". These awards celebrate and recognize the best our community has to offer in several industries and categories.

American Tattoo Society was founded in 2014 and for the 8th year in a row, we are nominated for a Fayetteville Observer's Readers Choice Award. In addition to our annual nomination for Best Tattoo Studio, we are also nominated for Best Customer Service and Best Place to Work.

It takes a hard-working team to be successful and loved by the community. These nominations we received cover all levels of our operations from the artists and counter staff to the managers, admins and owners. (Side note: We are looking for an experienced social media manager!).
Voting is now open!
To vote, simple click the vote link next to each category!
American Tattoo Society
Best Tattoo Studio: Vote Now!
Best Customer Service: Vote Now!
Best Place to Work: Vote Now!
All American Tattoo Convention
Best Local Event: Vote Now!
Best Festival/Fair: Vote Now!
Also, Vote for our friend Chop for Best Veteran Owned Business: Vote Now!